Shopping Cart
Your Cart is Empty
There was an error with PayPal
Click here to try again
Thank you for your business!
You should be receiving an order confirmation from Paypal shortly.
Exit Shopping Cart
Lucky Rabbit Estate Sales, Inc.
New York's Full Service Estate And Tag Sale Company.
*Estate Sales
*Tag Sales
*Online Auctions
| | |
| --- | --- |
| Posted on July 13, 2013 at 9:00 PM | |
Brooklyn Hoarders House-Set-up day 2#: Lucky Rabbit Estate Sales
Brooklyn Hoarders House
7/13/2013
www.luckyrabbitestatesales.com
Set-up day 2#:
Tom and I spent the day setting up the remainder of 1st and 2nd floor. You will not believe the amount of incredible things we're finding in bags and bins. You have to see it with your own eyes to believe it. This is not a small house by any means and its jam packed!
I would have to say we have "Tonnage" at this sale. There is multiples of almost everything. The homeowner could literally stock a variety store with this kind of inventory! It's not a sale miss, that's for sure!
We're also ecstatic to learn a majority of the A/C's work with the exception of the 3rd floor. We will be setting up the 3rd floor tomorrow, I'm sure we will find lots more interesting merchandise for you guys and gals! Keep you posted.
| | |
| --- | --- |
| Posted on July 7, 2013 at 9:25 PM | |
Hoarders Tag Sale
Brooklyn, New York 11226
7/27/13
This large Brooklyn home isn't quite as bad as you might see on cable. The homeowner didn't fill this massive 3 floor (plus basement and garage) home with garbage, quite the contrary!
She has an amazing mix of items from very cool "madmen" type floor ashtrays to barware of the same era. We also have a quite a few mid-century tables, lamps and accessories. Who knew you could find stuff like this still at a tag sale in Brooklyn, New York.
It's incredible to see so much stuff in one place. 100's of new small appliances in the box, names like Cuisinart to Rachael Ray and almost everything in between. Need a brand new bicycle in the original box; we got a dozen or so! Maybe you prefer vintage bicycles; we got a few of those as well.
Looking for a father-son project car? We have a 1973 Dodge Dart sitting in the garage with all the tools you might need to bring it back to its original glory.
So far we've only spent one day setting up this huge home (like only we can) and we are astounded by the awesome things we're finding. I know you will be too!
Most of you reading this are our regulars and I'm sure you will agree that no one can compete with Lucky Rabbit Estate Sales set-up when it comes to hoarders homes. It is one of our many specialties in the field of estate liquidation. Admittedly we love the challenge it presents.
I will be adding new pictures very soon so stay tuned. Oh and we discovered that the old A/C's are still cranking out cold air! Good news for all!
| | |
| --- | --- |
| Posted on July 4, 2013 at 7:10 PM | |
Whitestone, New York 11357
Saturday-7/20
10:00 AM to 4:00 PM
Click Here For Photos
Click Here For Directions
Vintage costume jewelry, vintage telephone company ephemera, mid-century kitchen table ,chairs and hutch, vintage Lionel train set with accessories, vintage Nishijin Shiroi Kamome panchinko machine, better quality furniture in excellent condition, Llardo's, Lenox china set, Belleek, Waterford Crystal glasses, vintage Sanyo CED player with a few movies, vintage Minnesota Fats "The Supreme" pool table with que sticks, tons of bric a brac, barware, bar needs, vintage telephones, bowling trophys, silk scarfs, vintage Christmas ornaments, Singer sewing machine, sewing needs, paintings, prints, posters, collectible plates, clothing, handbags, shoes, kitchenware, books, records, ton of hand and power tools, vintage board games, outdoor furniture, garden tools, Little Giant ladder, metro racks, linens, digger's attic and basement.
| | |
| --- | --- |
| Posted on June 30, 2013 at 3:50 PM | |
What is an estate or tag sale?
Paul J. Dunn
http://www.luckyrabbitestatesales.com/
Sometimes I'm shocked by the number of people who don't know what an estate or tag sales is. I even run into new real estate agents here in New York who have no clue and never heard of such a thing. A few of them have told me that they usually have the homes cleaned out of everything! Can you imagine the valuables that are ending up in the garbage or the clean-out companies pockets?
This is where a professional estate sale company like Lucky Rabbit Estate Sales comes in handy. Our free consultation and fair appraisal of your estate is beneficial to the heirs and also the memory of the family member who may have passed away. Don't let their memories and years of collecting go in the garbage when they can have a second cherished home.
We professionally organize estate and tag sales all over the New York City area. We serve Manhattan, Westchester, Brooklyn, Queens, Staten Island, Nassau and Suffolk County's.
Estate Sale: The most common reason for an estate sale is the death of the property owner, and the consequent need to quickly liquidate the deceased's belongings. The survivors may have no interest in the bulk of the personal belongings left by the deceased, or may simply lack space to keep the belongings. In situations in which the survivors cannot agree to the disposition of tangible property, a court may order the goods to be sold in an estate sale with the proceeds to be divided among the survivors. Such a sale and division may also be mandated in the will of the deceased.
Tag-Moving Sales: A tag sale may occur because the property owner will be moving or has moved into a situation where he will be unable to keep his property—for example, a move to an assisted living facility, a retirement community, a rest home, or other living quarters.
| | |
| --- | --- |
| Posted on May 29, 2013 at 9:05 PM | |
www.luckyrabbitestatesales.com
The antique estate sale of the decade!
What till you see what we found while digging through the costume room that was off limits during the first sale in this amazing Victorian home!
Below is the history of the astounding woman who wore all the costumes that are being offered for sale this Saturday, June 1st
Her life was very full and very interesting and makes for good reading…
Flower Hujer as a child - went to the Denman School (Brownies Whisper and Bishop Playhouse) (1914)
Fairmont Hotel School (Childrens May Fest)
Veronine Vestoff School (1916)
Appearing in Puss In Boots - 1918
Peacock Dance - 1918
Hollywood with her mom (appeared in silent Cecile B DeMille films with Kosloff)
Began training professionally as a young girl with Kosloff (famous Russian teacher)
Appearances in Opera at age 14
London Palladium
Hollywood bowl
/special events
she went to Dallas with Kosloff when he opened that school - many productions
Kosloff showcased her and another dancer -Kashevick- she changed her name to Kosloff's Flower
Les Sylphides
Romance of the Infanta
Petrouchka
Bachanale
Flower was at the height of her career with Kosloff
Kosloff Ballet
California Grand Opera Co
Opening of Grauman's Egyptian and Chinese Theatres
Carnegie Hall
1923 Motion Picture Industrial Exposition
1923 Orpheaum Circuit Vaudeville
Legend of tartary
Choreographic Miniatures
1926-7 Volgan Boatman - opening of the film
Sunrise "
What Price Glory "
1933 Dionysia
Bolero
Scheherazade
Tears from the Heart
Habanera
Memories of a Russian Gypsy
Hollywood Bowl - LA
Shingandi - Afircan Voodoo
Sylphides
Blue Danube
Other various venues
Opening of the temple Al Malaikah Temple 1926
Hollywood Masonic temple 1936
Russian Veterans Club 1932
Shakespeare Club Hotel
Opening of several operas : Samson and Delilah/ King of Kings / Volga Boatman/ Sunrise
Modeling for various events
Kosloff came back to Hollywood to pursue a film career and she became restless as a dancer. She broke free from his possessiveness and started on her own. She came to NYC
Worked with Charles Weidman
Sally Rand Nightclub 1940
The Music Box/ The Florentine Gardens/ Follies/
Merry Widow - Broadway 1943
Madame duBarry/ countess Marittfa - Gypsy - All In Fun - Bartered Bride 1941/2
By Jupiter - Flower was the Amazon Dancer 1942/3
1942 Flower married Richard Dwenger - a playwright - best friends and dresser for Gene Kelley
He wrote THE ROYAL ROOST and LARRY AND JEAN
Richard was killed in the Navy battle off the coast of Italy in 1943 - they had been married only a year. He was given a purple heart.
Flower was a specialty dancer in the Broadway show - Jackpot - 1944
She was on the Ruskin and Wilde Dance Team (as well as Miller) 1953
She then formed the Flower Hujer Dance theatre. She and Uncle Miller collaborated on choreography, costume and lighting and set design. Her performances were throughout the US. She danced almost until the end of her days. She and Miller were known for their exotic costumes and creative dance choreography. Many of the productions dealt with Religious and Nature themes - mystical and magical.
The Juggler of Our Lady: Priest/ Barnabus the Juggler/Women in violet and green/Priests/ Countess/ Count
pages/ image of the Virgin mary (Flower)
Byzantine Duo (with Uncle Miller)
Entity/Identity
Empyrean Realm - done the last decade of Flower's life - she is the Sun/Miller is the Moon.
Balinese American Fusion
Royal Nocturne - the Dreamer/ the young favorite/ the ladies/ a noble/Heavenly twins/Night furies/Apotheosis
Mythic Passage (Storied Passage) - Flower wore Red and fuschia - danced with Nicholas Appel
Out of Darkness (could be part of St. Joan) Pieta Coronation/Joan in fields/apparition of saints/Joan in battle
Journey of Mary and Joseph
The Legend of St. Joan of Arc (silver and blue?)
Cabinet of Scenes and Masks: cluster of playful dances - white, silver, black - progressive jazz
Three Profiles - Lady of Fashion
Tree Spirit Attended by Nymphs
Tryst
Love Story (Oriental) - eastern inspired fantasy
Fellini Land revisited
Red White and Blue Junction - wholesome charm of americana from 1910
Obscurate - silver branches, symbolic tatters / Praetorius
Arena
| | |
| --- | --- |
| Posted on April 24, 2013 at 5:35 PM | |
Come out this Saturday the 27th for a great cause!
We will be hosting a charity tag sale for Geraldo Rivera where a portion of all the proceeds are going to a wonderful organization, Life's WORC.
Geraldo has been working with this charity for over 25 years hosting their annual Geraldo Rivera Golf Classic. They are champions of people with autism and developmental disabilities.
This much needed organization was born out of Geraldo Rivera's report on the Willowbrook State Institution.
Beginning as Women's Organization for Retarded Children, WORC, a group of volunteers offered their time at the Willowbrook State School, an institutional setting for children and adults with developmental disabilities. In 1971, Vicki Schneps whose daughter resided in the Willowbrook State Institution met a dedicated and aggressive young journalist and together worked to expose the horror of Willowbrook. It was brought before the public eye through haunting images of abuse and neglect broadcast on the nightly news by Geraldo Rivera, an aggressive reporter, who opened the doors of Willowbrook in a comprehensive exposé.
Ms. Schneps was convinced that individuals such as her daughter needed a more nurturing home environment which could not be provided through institutional settings. She rallied her friends, political contacts and Geraldo Rivera to help advance the cause of people with developmental disabilities. WORC became known as Working Organization for Retarded Children and began educating the public to the needs of people with disabilities, working closely with Geraldo Rivera. Mr. Rivera began an organization, One to One, and lobbied for funding and better quality supports and services for these children. After many years of fund raising, meeting with community leaders and educating the public, a donation from One to One funded the down payment on the purchase of a home in Little Neck, Queens. This first group home in the Borough of Queens for individuals with developmental disabilities was opened in 1977. The residence was home to eight individuals who had all resided at the Willowbrook State School. The home was dedicated with a ribbon cutting and a plaque which read: "This house is now a home"
WORC continued to develop new homes throughout the Borough of Queens and in many communities throughout Nassau-Suffolk counties on Long Island. In 2000, as we entered the new millennium, WORC began a multi-year long process of empowerment. At the request of our stakeholders we changed our name to Life's WORC and we no longer identified the supports or services of the agency by a disability. The diversity of services and resources offered to the individuals and families we support continued to evolve to include, LifeLinks Day Habilitation, Art & Music Therapy for children with autism, Life's Connections through Music, At-Home Residential Habilitation and many other much needed Respite / Recreation Programs along with continued expansion in Residential Opportunities.
| | |
| --- | --- |
| Posted on March 4, 2013 at 7:05 PM | |
When it rains it pours.
I want to thank Lynn, Matt and Vincent from our last three Estate Sales. They gave us really nice and genuine testimonials. It was a pleasure working with all of you.
We deliver a higher standard of estate sale services over our competitors resulting in positive testimonials sale after sale. Take a look our latest 3 that were all submitted today.
http://www.luckyrabbitestatesales.com/apps/testimonials/

I highly recommend the services of Lucky Rabbit Estate Sales. Especially if you were like me; pressed for time, with a house full of items that you cannot keep, and have no idea of how to value! Paul and Tom did a great job of organizing, valuating, promoting, and running the estate sale for my Grandmother's house. These guys are professional, and courteous and respectful of your possessions. Thanks to their marketing abilities, more than 400 people came for the sale. Call Lucky Rabbit to make your Estate Sale an overwhelming success! Grandmas Estate Sale Staten Island, New York
Matt M.
Satisfied Customer!
Dear Paul and Tom, I am writing to let you know how much we appreciated all of your knowledge and insight when cleaning out Mildreds house in Great Neck New York! You did it with such dignity and grace and everything looked so elegant during the sale! I had interviewed a few other estate sale companies and the 2 of you were so kind and made it so easy since we live over an hour away! The cleanout service was my favorite part because there was 50+ years of 'ick' that you were able to get clean!! Thanks again and please use my name if anyone needs a reference!
Lynn Lewis
Happy daughter in law
Right from the first day meeting with Paul for the consultation, I felt totally comfortable given Paul's concise and accurate assessment of things, coupled with his very genuine nature. Paul and his partner were prompt, professional, and made this process as simple as possible for me. Through their advertising and social media efforts, the sale took in over 300 people on the first day alone.The cash return from the sale was fantastic (and was more than could be expected). I'd highly recommend Paul and Lucky Rabbit to ANYONE preparing to have an estate sale. These are the guys to do it
Vincent
Satisfied Client Dyker Heights Estate Sale
| | |
| --- | --- |
| Posted on March 4, 2013 at 3:05 PM | |
Don't throw anything away when considering a tag or estate sale.
By: Paul Dunn
Lucky Rabbit Estate Sales
We look at many houses each and every week but the sad fact is that we have to turn some of them down. The average number is 8 out of 10. They do not meet our criteria for a profitable sale. In many cases the family has already disposed of so much merchandise they thought was garbage! 99% of the time the items they threw away was monetarily necessary to conduct a sale. Just recently I found a big bag of antique watches and watch parts in the trash. In this same house I found a paper bag with 3 dozen American made vintage pocket knives that had never been open, all in pristine condition. We were able to get them very good money for these little bags of trash. Every dollar adds up in a sale and there truly is a buyer for everything you have in your home. Please don't throw anything away until you seek a professional assessment from a reputable company.
Another situation which has just popped up over the last few years is the cash for gold craze. Independent stores, by mail, Barber shops, shoe repair, gold parties are all advertising, "Top dollar paid for gold and silver", nothing is further from the truth. The fact is that they will offer you a mere 20% to 40% of what we can get for these sought after precious metals. The bottom line is, do not sell a thing to one of these stores. It's not fiscally responsible to you or the estate you represent.
We hate turning down the 8 out of 10 estates in the hour of need so we're always ready to make suggestions and offer some sound advice and help, either by putting them in direct contact with dealers and private buyers or arranging charity pick-ups and clean-outs.
We are in a service industry and we feel an obligation to help all those who need it.
We are the company that cares!
| | |
| --- | --- |
| Posted on February 13, 2013 at 12:05 AM | |
WE ARE THE #1 ESTATE SALE COMPANY IN NEW YORK 6 WEEKS IN A ROW!
2/10 Most Viewed Company NY
2/3 Most Viewed Company NY
1/27 Most Viewed Company NY
1/20 Most Viewed Company NY
1/13 Most Viewed Company NY
1/6 Most Viewed Company NY
WWW.LUCKYRABBITESTATESALES.COM
| | |
| --- | --- |
| Posted on February 4, 2013 at 4:50 PM | |
Five weeks in a row we are the number one estate sale company in New York! Our National Rank: 4 of 1541 companies
www.luckyrabbitestatesales.com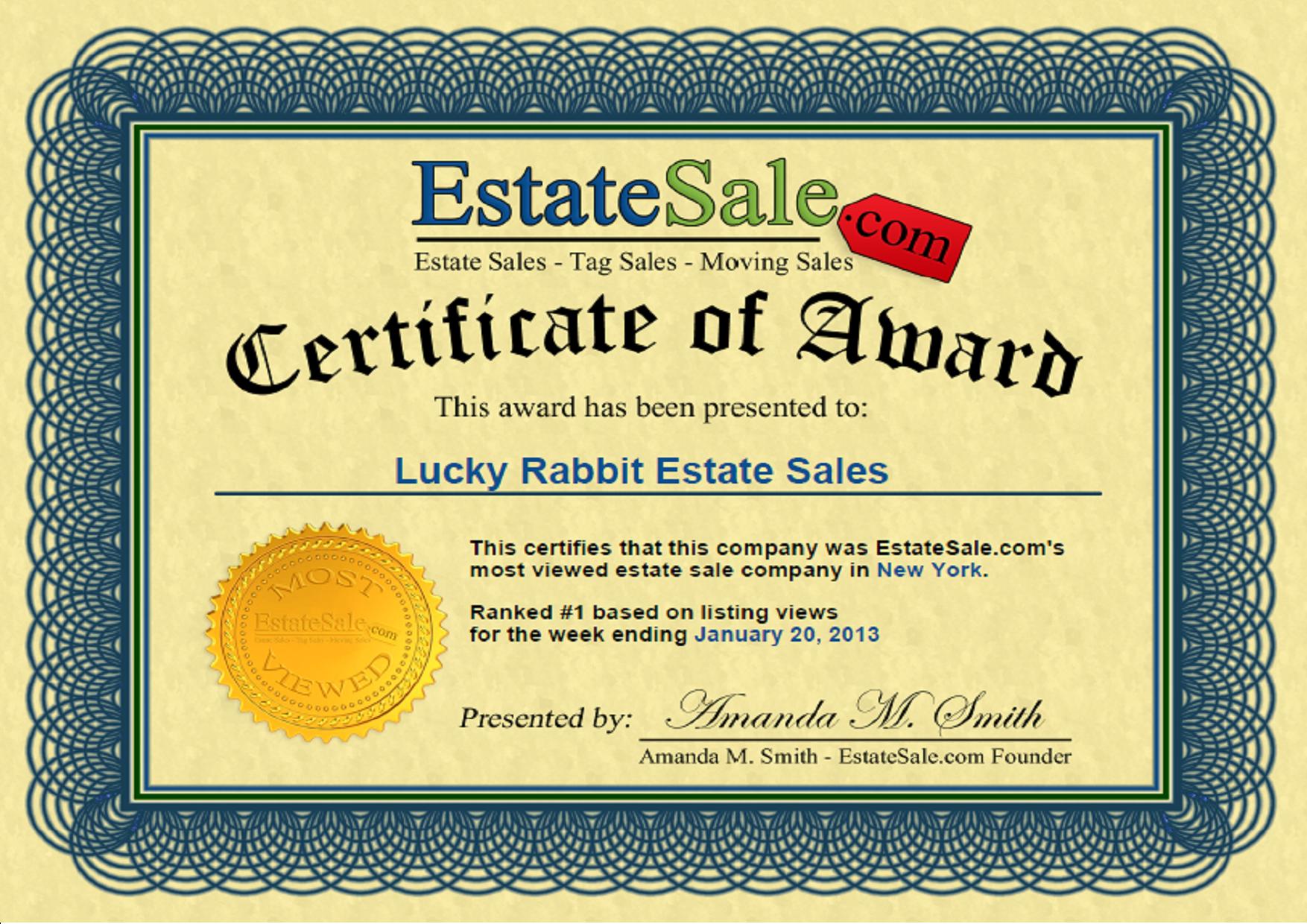 /